140 Industrial Way, Buellton, Ca.
Hours: Fri-Mon 11 ish – 5 ish
Please call ahead with large groups 805-242-5206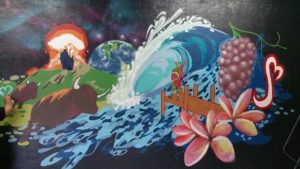 The search for the best place to showcase our wines led to the opening of the Buscador tasting room on April 1st 2017. The unique location provides customers with a wine tasting experience unlike any other. The winery & tasting room occupy the same setting in an industrial warehouse where you can touch the barrels and taste the future. Focusing on the bold Bordeaux varietals Cabernet Sauvignon, Cabernet Franc, Malbec, Petit Verdoh along with silky smooth Rhone varietals including Syrah, Grenache Rose', Grenache Blanc, Roussanne and the occasional Burgundian Pinot Noir and Chardonnay, Buscador Winery features something for everyone.
The barrels are here for you to touch. The bar top is an attraction itself and the winemaker pours you the wine. Kinda hard to pass up the experience…
Cheers, Matt & Steph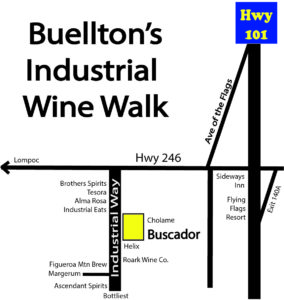 Calendar of Events (Tentatively)

June 21st, Wednesday: Industry Night w/Cholame Winery, 5:00pm – 7:00pm
August 19th, Saturday: Sta. Rita Hills Winegrower Alliance, Wine & Fire, Lompoc, 5:00pm – 8:00pm. Tickets available here.
September 23rd, Saturday: Buscador Harvest Party & Wine Club Release Party (Tunes, grub and plenty of vino!)
October 6th-9th: SBCVA Harvest Tasting Pass @ Buscador, 11:00am – 5:00 pm
October 21st: Harvest Party! Live Music! Food Trucks! Barrel tasting! 2 for 1 Wine Tasting! 1:00 – 4:00 pm. Free Event!
December 16th, Saturday: Holiday Pot Luck Party!
Closed: Thanksgiving Day, Christmas Eve, New Years' Eve