How Buscador?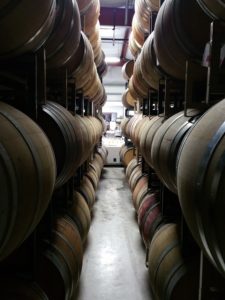 One never knows where the path will lead and wandering through the Barcelona markets in 2005 with full intention of moving to the Rioja Region of Spain on my wine making journey, I had an epiphany. Northern Spain is bitterly cold in the winter and the closest surf break is Mundaka. I booked a return ticket back to Hawaii. Shipped my car to Long Beach from Honolulu. Flew to LA. Rented a car and drove to Santa Barbara. I slept on a good friends floor just off Las Positas Blvd then drove up and down the Central Coast visiting wineries, cities, chambers and surf spots.
From San Francisco to Santa Barbara I found no more beautiful area than the Santa Ynez Valley. The people, the vibe, the growth and the wine. I happened upon Jeremy at a tasting room in Los Olivos who said Kalyra Winery was really busy because of the "Sideways" movie. I drove over. Martin Brown greeted me at the door, took my resume and I started the next day. That was March 2005.
Twelve years later, humbly celebrating fifty years on Planet Earth and filled with gratitude, I pen this diatribe. Buscador, my nickname, is based and founded in truth and there is nothing more truthful than to risk failure in order to achieve success. After 12 yrs, 11 vintages and 30+ Buscador wines removed from that fateful day in 2005 my wife and I decided to go all in and open our own winery and tasting room. It is a vision in motion, a new journey, re-confirming deep meaning through the act of creation with very barrel give Reiki along the way.
This is all a long way from a 1996 summer barbecue at John Haines's house, a life mentor who currently lives in Divonne, France. At that barbeque, among a host of amazing human beings, a decision was made over a glass of Vintage Port from 1967, the year I was born. The decision that one day, eventually, I might be winemaker…
Cheers John. 
Why Buscador?
In the little town of San Pedro La Laguna, on the shores of Lake Atitlan in the country of Guatemala lives a family of five. Sebastian, the father, is a teacher at the local elementary school. Lolita, his wife, stays home and cares for their 3 children. I stayed in their home August of 2000. A month long trip to Guatemala was about many things but one of them was to hone my Spanish speaking skills. Now what does this have to do with wine, me or anything? This small journey set me on the path. I have traveled all over the world for a multitude of reasons. In the beginning it was a limitless, passionate search for the sole purpose to experience. It morphed into a "higher purpose" existential journey. Evolved further into a confused search for meaning. Then it slowly grew into a truth. The one truth of it all. The search is the truth.
The journey is always about snapping more than photos. The journey is the story. Your story. My story. No one story is the meaning. While I have not found the meaning of life I have found meaning in life. The journeys are often not defined by what is accomplished, but who is encountered along the way. While the children lay sleeping Sebastian and I waxed poetic for hours at the table, talking by candlelight in Spanish about all manner of philosophy. In the end, a connection was made, in that connection Sebastian called me a Buscador. A "searcher". Buscar is the Spanish verb "to look for". Well, I didn't realize it then but have come to understand that we all, are indeed, "Buscadors" in this life. Love Your Search.
Thanks Sebastian.